ABC Clio ISSUES This database will help you develop an in-depth understanding of how society shapes and is shaped by controversy, providing authoritative historical context, expert perspectives, and carefully selected primary and secondary sources on today's most important issues.
INFOBASE Issues & Controversies understand today's crucial issues by exploring hundreds of hot topics in politics, government, business, society, education, & popular culture.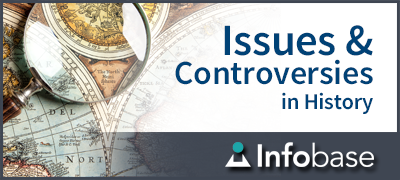 INFOBASE Issues & Controversies in History places you at the center of the great debates and conflicts in U.S. and world history, exploring the issues as the key players saw them, or, in some cases, as historians have interpreted them.
PROQUEST SIRS Issues Researcher Provides authoritative insight into the most-studied social issues by delivering the pros and cons from relevant, credible documents and graphics selected by trained editors and curated from over 2,000 global sources.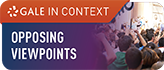 GALE Opposing Viewpoints is the premier online resource covering today's hottest social issues, from capital punishment to immigration to marijuana. This cross-curricular resource supports science, social studies, current events, and language arts classes.