Gale Global Issues: Supports global awareness and provides a global perspective while tying together a wealth of authoritative content, empowering learners to critically analyze and understand the most important issues of the modern world. Explore issues within government, law, health, science and technology, society and culture, and more.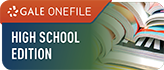 GALE High School Edition: Search magazines, journals, newspapers, and reference on a range of topics.
CQ Researcher: Often the first source that librarians recommend when researchers are seeking original, comprehensive reporting and analysis on issues in the news. Founded in 1923 as Editorial Research Reports, CQ Researcher is noted for its in-depth, unbiased coverage of health, social trends, criminal justice, international affairs, education, the environment, technology, and the economy.

World Geography: Understanding a Changing World focuses on the geographic, political, social, economic, environmental, and cultural forces that are increasingly important in our globalized world. On any given country, you can find information about the landforms and climate; natural resources and agriculture; environment; people; traditions and etiquette; food and holidays; national dress; art and landmarks; and government, politics, and economy; as well as its history and contemporary issues the country faces.
Gale Power Search offers a variety of resources for education, lifelong learning, and academic research. Whether you are looking for peer-reviewed articles; full-text magazines, newspapers, and eBooks; primary source documents; and videos or podcasts, Gale puts the right vetted content and tools at your fingertips!